Overseas Education to New Zealand
. New Zealand or better known as New Zealand is famous for its natural beauty with a peaceful environment, clean and safe is an ideal place to
learn
New Zealand is located
in the southern hemisphere and consists of two islands called North Island and South Island and has a population of no more than 3.5 million people. The nation's capital is Wellington, is its largest city is Auckland.
Auckland universty
As a
destination country
for the Education of Foreign Affairs of the country is sharing some of his education level as follows:
HIGHER EDUCATION IN NEW ZEALAND
There are several types of higher education in New Zealand, namely:
UNIVERSITY
College education generally is at State and provide a Bachelor, Master and Doctorate.
POLYTECHNICS
These institutions typically hold vocational education that is ready to provide a Certificate, Diploma to a Bachelor's degree. Study period between 1-3 years. After obtaining the Diploma of Polytechnic students can proceed to the University to obtain a Bachelor's degree.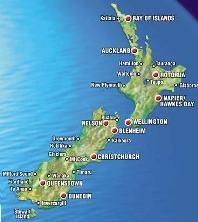 COLLEGE OF EDUCATION
Provide a Bachelor and Diploma specifically for education.
NEW ACADEMIC YEAR
Primary & Secondary Education level began in late January, while the level of the University or Polytechnic start at the end of February. However, most of Polytechnic University and also received a new student in the second half of July.
SECONDARY SCHOOL / HIGH SCHOOL
For students who have graduated from elementary school in Indonesia can proceed to New Zealand from Year 7 s / d Year 13.
For junior high school graduates from Indonesia to continue to Year 10 or Year 11.
After finishing Year 13 students NCEA Level 3 exams which is a condition of entry to the University of New Zealand.
Secondary School in New Zealand consists of public schools and private, and many also provide dormitory.
COST
Estimated budget of the school fees and living expenses in New Zealand are:
SCHOOL FEES
NZ $ 10.000 to 20.000
RESIDENCE & DINING
NZ $ 12.000 to 15.000
Allowance
NZ $ 3.000 to 4.800
BOOKS & HEALTH INSURANCE
NZ $ 1.000 to 1.500
English course costs and living expenses range between NZ $ +1- 2.000 to 3.000 per month.
DOCUMENTS REQUIRED DOCUMENTS
We as a Foreign Educational Consultants advise students who will be following the Education of Foreign Affairs in this country then you should prepare prospective students:
*Photocopy final report cards & certificates that have been certified by the Principal + / -3 sheet
*Photocopy Transcript for ever college.
*TOEFL or IELTS Test for those who have followed.
*Passport and Birth Certificate
*Photograph size 4x6 cm - 5 pieces
*Letter of Recommendation from teacher / principal for under 17 years of age and good conduct letter from the Police Department for over 17 years of age.
studying in
New
Zealand
learning
while traveling, beautiful country, lets go
Page Information Article
Title: Overseas Education to New Zealand
URL: http://edughoni.blogspot.com/2011/09/overseas-education-to-new-zealand.html