Life is a mystery, This is the true story of a unique pilots are lucky to tell the story of his life.
1.
Evan Graham
celebrates the 16th anniversary of his Aug. 6 with the flew alone uses five different aircraft: WWII vintage L-4 Piper Cub taildrager, R-22 Robinson Helicopter, Cessna 150 Aerobat, a Robinson 44 Raven II and 1965 Cessna 150 . World record for youngest solo pilot to fly five different aircraft.
2.
Jessica Cox
disability and born without arms. None of her pregnancy test showed there was something wrong with him. But he was born with a rare congenital disease, but also with great enthusiasm. Psychology graduates, could be writing, typing, driving a car, combing her hair and talking on the phone just by using his feet. Ms. Cox, of Tucson, Arizona, United States, also a former dancer and a black belted double-Tai Kwon Do.
He has unlimited license, he flew the plane and she can type 25 words per minute. He called the Ercoupe aircraft and is one of the few aircraft to be manufactured and certified without pedals. Jessica without rudder pedals free to use his legs as hands. It took three years to complete his light aircraft license. He has three flying instructor and practicing 89 hours of flying, becoming the first pilot with no arms.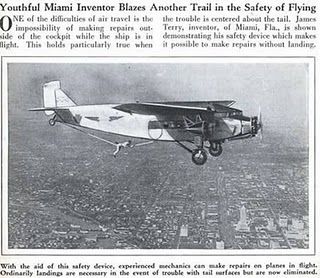 3.One of the difficulties of air travel is unlikely to repair the boat outside the cockpit while in flight. This applies especially when the problem is centered around the tail. but this turns out to have been debunked. Note the photo well, the photo shows that
James Terry,
had been repairing the aircraft during flight.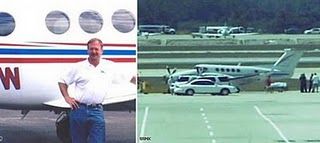 4. When the pilot of a twin-engine Beech aircraft collapsed and died in the middle of the flight, a passenger named
Doug White
of Archibald, Louisiana, took over the plane and land it safely. White, with his wife and two daughters flew in from Marco Island, Fla., to Jackson, Mississippi, on Sunday after attending the funeral for his brother, when he realized there was something wrong with the pilot. The aircraft was located at an altitude of about 5,000 feet and climbing. White said although he was a certified pilot single engine and has about 130 flight hours, he did not know how to fly a twin-engine aircraft are much greater.
He told his daughter, "You go back there, and I want you to pray". Although White sounded quite calm, the tension evident in recordings issued by the Federal Aviation Administration as a controller in Fort Myers, Florida. At one point, the controller asked if the aircraft using the autopilot, or whether the White flew his own plane. "Me and the good Lord has flown," said White. The cause of death of the pilot itself has not been released. Federal Aviation Administration has not given the permission of air traffic controllers involved to speak about the incident.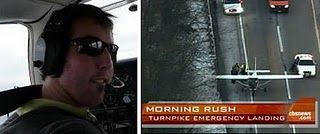 5.
Frank Vogt
,traffic is a Cessna pilot who lost oil pressure at an altitude of 1200 feet from the ground. In the early morning darkness of the land looks like one big mass of black darkness. "I know it's pretty broad, I know it's pretty straight. No cable, and I do not see a lot of flying," said Vogt. He reasoned that because the traffic is still light, there will be enough room between cars so that they can slow down and let him carry out his plan. He even managed to attract Cessnanya to the side of the road.
Page Information Article
Title: Unique Story of The Pilot The Lucky Ones
URL: http://edughoni.blogspot.com/2011/09/unique-story-of-pilot-lucky-ones.html