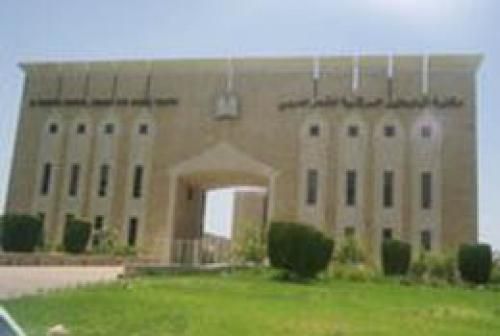 Read the books
in the library is nice especially the full contents of these libraries and the
largest in the world of literature of Arabic
. The architecture of the building is not much different from the buildings and centers of Islamic studies at Kuwait
University
, but some parts of the building around the building, such as parks, pools of water at the time of the building resembles Cordoba.
This pattern seems, inspired by the era of the triumph of literary
Arabic
in Andalusia before the famous Arab poet spawn. Indeed, in the library, saving thousands of works of writers from Andalusia. Bebarapa including manuscript form.
Maktabah al-Babtain is a library that collects books, magazines, journals and specialized research work on Arabic literature and sya'ir. He includes the first library in the world to specifically collect works of Arabic literature. Even today the largest in the world.
There are over a hundred thousand books and journals about the work of Arabic literature. Among the collection, there are manuscripts written in the early days of
Islam
.
Collection also includes many letters from Andaluisa. Also stored the books of literature and poetry that are printed at the beginning of the printing press was found. Some of his research thesis and a dissertation on Arabic literature from several Islamic universities in the world is stored here.
Ground floor rooms specifically for the meeting, welcomed the guests, a collection of tapes, VCDs, internet and mushalla and equipped with a cafe next door.
On the floor are usually visitors consisting of students, lecturers and researchers from various countries are discussing, and writing. There is also space for theatrical performances and seminars. Great, here comes a list of all the works of Arab literature is scattered across the globe. Search online. Therefore, he called a "
smart

building
".
This private library open to the public. Several students from Arab countries have conducted research here. Al-Babtain built since 2002 and was completed in 2006 by a famous poet named from Kuwait, Abdul Aziz al-Babtain Su'ud. According to al-Babtain family, who welcomed the group ISID, the library was built with the aim of preserving and advancing the Arab literary tradition among
Muslims
and Arabs the progress of civilization in the midst of modern civilization at this time .* / posts Kholili Hasib
Page Information Article
Title: The Library's Largest of Arabic Literature in kuwait-Amazing
URL: http://edughoni.blogspot.com/2011/09/librarys-largest-arabic-literature-in.html