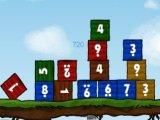 Online Education Game Bar Balance
.In order for any child learning his rest, but still can learn that with the invented game that aims to better focus, the introduction of the counting, animals, people and the introduction of other professions, one game that is very interesting is the Balance Bar, That is the bar with the numbers game , how the game, balancing the number on the right and left side to balance ,..!! The game is to train children as well as to add numbers.
Description:
You're against the clock in order to get the highest score possible. Do you risk going for the big multiplier at the edge of the bar or play it safe and drop Them in the middle? You Decide in Bar Balance, go for the high score.
Instructions:
Use the mouse to move your brick and left click to drop.
Let us play together Bar Balance :
Page Information Article
Title: Online Education Game Bar Balance
URL: http://edughoni.blogspot.com/2011/08/online-eduction-game-bar-balance.html