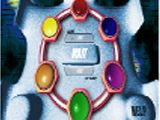 Senses train our eyes and ears with this one game, the game is very simple way by pressing the button that turns on and reads the name of the game is to listen and colors.
Description:
Simon's a computer, Simon has a brain, you either do
what Simon says or else go down the drain.
The object of the game is a simple one, as Simon likes to say. Follow the pattern of lights and sounds for as long as you can remember them.
Instructions:
· Play This Game = Use Mouse
Page Information Article
Title: Online Education with Colors Game
URL: http://edughoni.blogspot.com/2011/08/online-education-with-colors-game.html